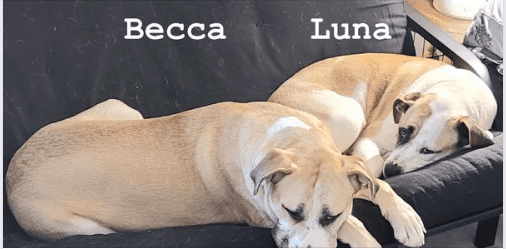 Our beautiful girls Luna and Becca. Luna has come back to us, and is enjoying hanging out with all her buddies. She has developed a special bond with Becca, who is one of her pups from a previous litter, that we took in last fall with her puppies .
These two girl are both sweethearts. Becca is a about a year and 1/2 old, and Luna we think around 3 and 1/2 to 4 years old .
They are boxer mix , and have lovely personalities.
If you think one of these girls might be the right mix for your family, please fill out an application on line, and we will be in touch . They have not been tested with cats, and as older dogs, we feel a cat free home is best. They need a family who has the time, energy and desire to welcome these girls in as part of their family. They have had many changes and challenges in their short lives, so we are looking for the perfect fit for them .
Adoption fee is $580. They are spayed, up to date on vaccines, and micro-chipped.
Applications : https://www.saintsdogs.ca/adoption-application
Website: https://www.saintsdogs .ca