Best friends Made here
Welcome to S.A.I.N.T.S. Dog Rescue 
S.A.I.N.T.S. is a registered charity committed to providing supportive care while promoting humane treatment to abandoned, homeless dogs in our community placing them in approved foster homes, and finding them forever families. We are 100% volunteer based and sustained by public donations.  
Every dollar raised goes directly toward the care of our animals.
Remy thought that testimonials did not make much sense so she created Happy Tails!  It's Remy's tail spin about sharing your Dogs brief Bio and their happy quirks. Help Remy spotlight what makes them unlike any other!
Remy
Life with Remy
My name is Remy (formally Grechian). I was rescued by SAINTS in late 2019 by Terry, Barbara and Donna. Their team of fosters and volunteers kept me safe until I found my forever home. My family loves me although sometimes they call me "Trouble, Bandit and Dug" ... I don't know why. Follow my adventures on SAINTS Dogs Facebook . Thank you SAINTS for all you did for me!
JOIN OUR PACK - REMY's HAPPY TAILS
Remy would love you to add your pet's Rescue story to hers on our Happy Tails section. She asks you have fun and write it from your dog's or from your perspective.  Send along your dog's picture, what you would briefly like to say, via email with the Subject line "HAPPY TAILS" to  saintsdogs@hotmail.com
Our Dogs get the best of us
What that means for you
When you adopt your new friend, your fees are put towards their care including rabies, deworming, spay or neuter and microchip.
Being selected for adoption of a rescue is a life long commitment to the most dedicated loving friend you have ever met.
SAINTS maintains the best friends in the industry providing financial support and products.
You are joining a family of loving owners who keep in touch with their pets siblings. Its not uncommon for your rescue to visit it's sister or brother for life.
With such a community of successful adoptions, there is no shortage of knowledge of foods which are best for any circumstance. Ask away!
Your rescue's happiness is everything to us. We will guide you for any help you need.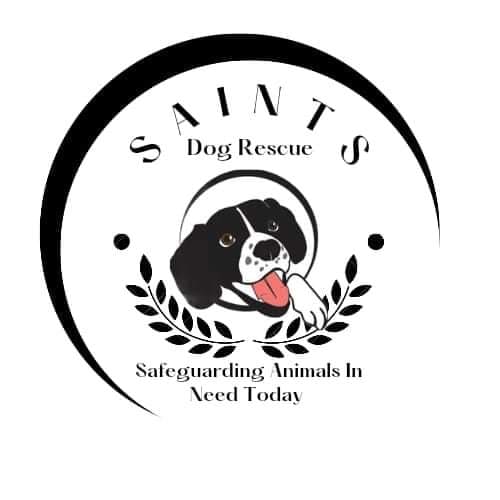 Find us ONLINE
Join our Awesome  Community
Our Facebook & Instagram communities are packed with past, present and future adoptions. Follow your pets siblings, join them at the dog park and share with everyone how your fur baby is growing into that special character. We love to hear and follow your special friend through their adventures!
Have a quick question?
Contact our Team